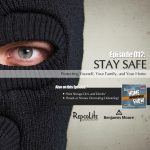 Yes, this is a Home Improvement Show, but really, how important is a well-decorated and maintained home if every member of our family isn't there to enjoy it with us? At RepcoLite, we love painting projects. We love decorating. We love a good, "from the ground-up" remodeling project. But none ...
Listen Now!
Looking at a scuffed wall, just days after it has been painted, is frustrating! Benjamin Moore is changing all that with a brand new paint that's almost magical in resisting what life throws at it. We put it through it's paces and were amazed!  We'll tell you what the product ...
Listen Now!
Finding the perfect color for your next project doesn't have to be complicated! You don't have to stand in front of the color display for hours looking at 1000's of colors. There's a simple process we're going to tell you about that will help you cut the time you spend ...
Listen Now!