Want to listen our show every Saturday morning?
You can find it on your radio dial at the following stations and times:
There is so much stuff on today's episode! Fun stories about what it's like to be short, as well as discussions about great fall projects that will help you save money (and keep mice OUT wall winter long!) On top of that, we discuss Benjamin Moore's big announcement regarding the ...
Listen Now!
Personally, I love the appliance episodes because they can be so practical. In today's first segment we talk about common appliance repairs that anyone can do! And you're not going to believe the money you'll be able to save! Listen here: Show notes for Episode 027: Segment 1: Common DIY ...
Listen Now!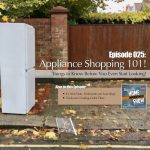 Every time Dan goes to buy a refrigerator, he makes a critical mistake that MANY people make. He starts by going to the store and looking at all the available options. He picks a fridge he just can't live without, then goes home to measure the space. This is the ...
Listen Now!