This week, Betsy and Dan continue their discussion regarding simple exterior projects designed to help you increase the curb appeal of your home without breaking the bank!
Episode Outline
Is Your Front Porch Inviting? (1:06)
What Does Your Landscaping Say About Your Home? (17:10)
Have You Ever Considered Painting the Whole House? (23:50)
A Simple Cleanup Can Make a Tremendous Difference! (28:14)
Haint Blue
One of the interesting discussions we had in this episode revolved around an old tradition in the South where porch ceilings were painted blue. There were a number of reasons why people did this, but one of them revolved around the ability of blue paint to ward off or deter spirits, or "haints". You can read one of the articles we referenced right here!
The Porch on the Grand Hotel (or, Dan's Wrong Again).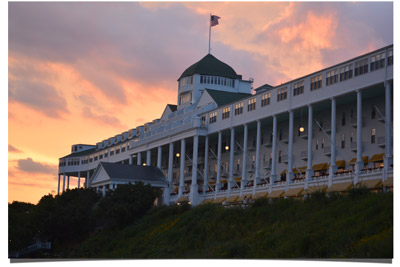 During the discussion about porches, Dan suggested that the famous porch on the Grand Hotel on Mackinac Island was painted blue. He was adamant. Betsy was, of course, skeptical. She offered to check with a "reliable source", who turns out to be her father. Who turns out to be the supplier of much of the paint that's used on the Island. Who confirmed that Dan was indeed wrong. The actual color on the huge covered porch of the Grand Hotel is called "Grand Hotel Porch Green".
Now, technically, it's a bluish green. But it's also, technically, called "green". So, Dan (though he was really close and would get an A for effort if he would accept a grade based solely on effort) was wrong. Betsy, as seems to be her tendency, was right. Oh well, tomorrow's a new day…
Vinyl Safe Colors
We mentioned this in our previous episode as well, but here's the link to Benjamin Moore's Vinyl Safe Colors. Check out the full palette!

Painting Your Vinyl Siding
Painting your vinyl siding isn't typically a project we'd consider "low-budget". Yet, in the grand scheme of things, it really is. Here's why: painting the vinyl siding of your home will produce a remarkable change. In fact, not many outdoor projects (if any!) are going to produce as profound a change in the curb appeal of your home. So, the project produces amazing results. And to get those amazing results, you typically only have to spend anywhere from $300 – $600 on paint. Add some supplies and figure in your time to do the work and you're still talking about a relatively low expenditure to produce the biggest change possible without remodeling or re-siding your home. So, relatively speaking, it's inexpensive when you consider the results!
And, it's not a difficult project. We'll go into greater detail on a future blog post, but for now the basics are these:
CLEAN THE SIDING: Before you apply any paint, the siding needs to be cleaned and free from any surface contaminants. The paint you will later use bonds to the surface of the vinyl. If that surface is not clean and ready for paint, you can end up with the paint bonding to whatever contaminant was there (dust, dirt, etc). So, make sure you clean the siding. We recommend a cleaner called Jomax. It's designed to clean vinyl siding and if you use this in conjunction with a scrub brush and a power washer, you'll be able to get the dust, mildew, and any other surface contaminants off the siding to make it ready for paint.
PICK YOUR PAINT: Once the siding's ready for paint, it's time to get the paint! We recommend Benjamin Moore's Regal Select Revive. Revive provides excellent color retention, is resistant to mildew and can be applied in temperatures as low as 40 degrees Fahrenheit. It's designed specifically for vinyl siding and comes in a wide palette of vinyl-safe colors. As we mentioned above, to avoid warping caused by colors that absorb heat, be sure to select vinyl safe colors for your project!
Below, we have a gallery showing you why you want to use vinyl safe colors! In the photos, the paint on the vinyl was simply regular exterior paint and a vinyl safe color wasn't chosen. The new color was darker than the original vinyl and, in the sun, heated up so much that the actual vinyl siding warped, creating a problem that can only be fixed by replacing the siding. The lesson? Always choose vinyl safe colors!
APPLY IT and ENJOY: After cleaning and picking your paint (and vinyl safe color!) all that's left is to do the work. Apply the paint on the cool side of the house, working out of direct sunlight. You can use a roller (we have various sizes), a paint pad, a brush (generally just for trim work), or even a sprayer (if you can safely do that without having overspray drift throughout your neighborhood!). Painting the whole house is labor intensive. It will take you some time and it's definitely a work out (you're going up and down ladders all the time!). But, the good news is that once you're done, you'll be able to enjoy the benefits for many years to come!
If you decide to tackle a project like this, stop out at any RepcoLite, Port City Paints, or Snyder Paints location and let us give you the full rundown regarding method and tools!
A Simple Cleanup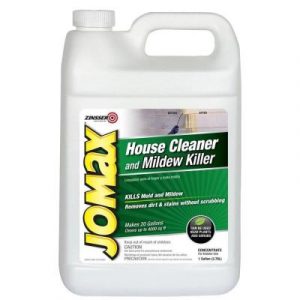 We ended this episode discussing the importance (and ease!) of simply doing a little cleanup around your house. Sure, this is pretty obvious, but we wanted to highlight a couple things that might make this easier for you. First off, as we mentioned above, when it comes to cleaning your vinyl siding, we recommend Jomax. It's a concentrate you mix with water and it's designed to help you easily remove tough dirt and stains. Mix it with a little bleach and it will kill mold and mildew fast! (Just watch out for your plants and landscaping . . . or you'll be in big trouble. Remember: we warned you!)
A second note we wanted to convey is that RepcoLite, Port City Paints, and Snyder Paints all rent out power washers. So if you don't own one or have a friend or neighbor with one, be sure to call your nearest store and reserve one! It speeds up the cleaning process dramatically and will help you get your house looking beautiful in no time!