Every day seems to bring new scam and fraud alerts. The news outlets tell us to be careful with our credit cards and identity. Facebook is full of posts warning us about some new scam that has us on edge every time we go to our inbox. That's why we contacted the Holland Department of Public Safety. They will help us know what to look for, how to stay safe while out Christmas shopping, and a few other things many listeners probably don't know. Their goal is to keep us safe so we can all have a Merry Christmas season.
Listen here:

Show notes for episode 034:
Christmas decorating can be very stressful. It can also seem stale. All too often we get stuck in a rut of putting the same decorations in the same spot year after year. If this sounds like you, maybe this is the year to try something different. Maybe it's the year to go "Scandinavian." Now this doesn't mean go out and buy all new decorations and take up new traditions. It simply means to scale down what you are doing. And, if you happen to be selling your house, this is the perfect way to highlight your home's best features while still having that Christmas feeling.
Every time we turn on the news, pick up a paper, or check Facebook, there seems to be a scam or fraud warning. Are they really something to worry about or just a lot of hype? It's the Christmas shopping season and we want to be sure that all of our listeners are safe at home, as well as when they leave the house. We sat down with Officer Dan Keuning and Officer Adam Sokolove of the
Holland Department of Public Safety
to get their thoughts on these warnings. They also have some ways to keep our homes and property safe while we enjoy all the season's festivities.
Officer Dan Keuning and Officer Adam Sokolove in our studio! Thanks for stopping by!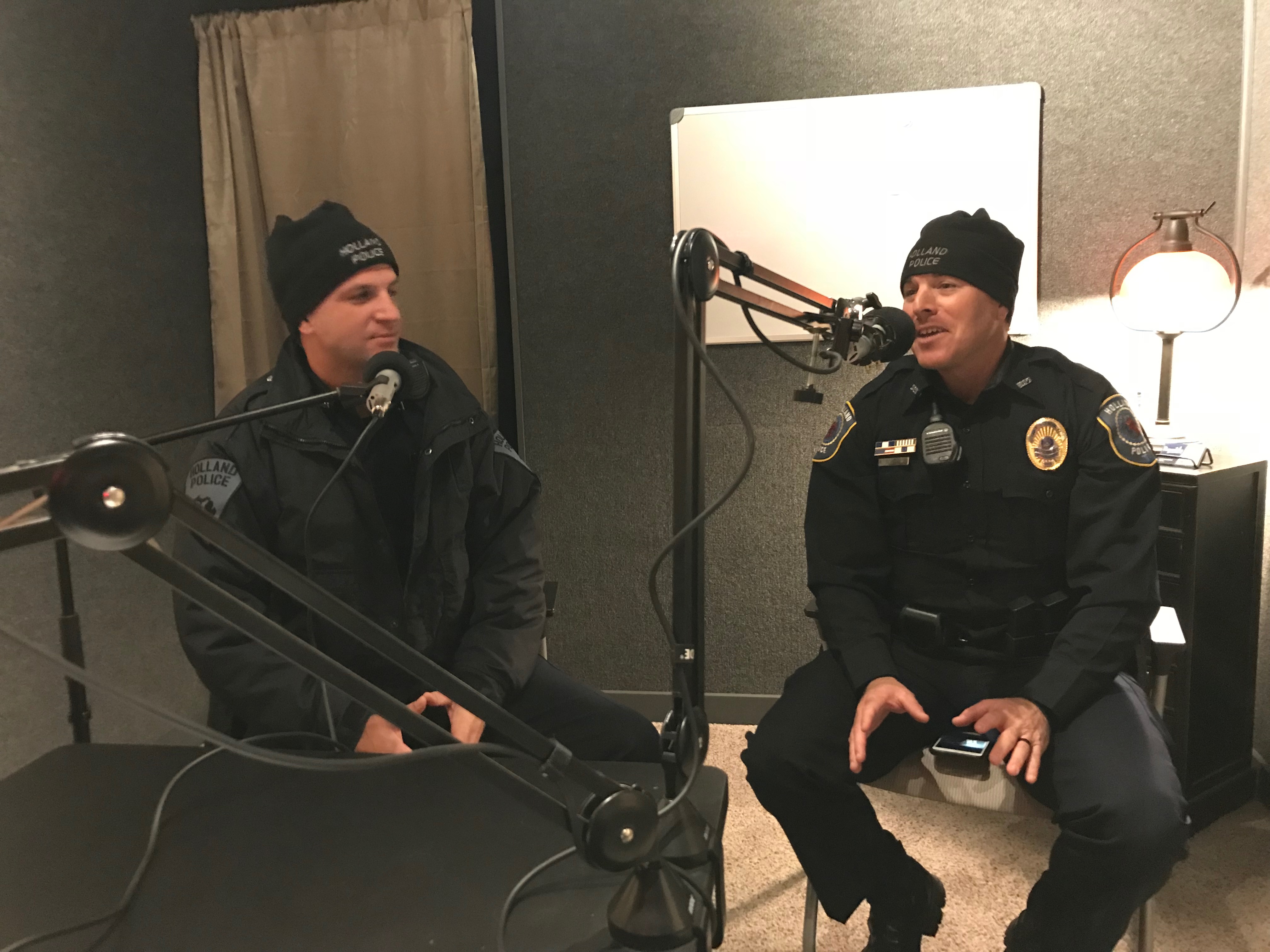 Do you have a wall in your home that has a hole from that time last year when the kids decided it would be a GOOD idea to play catch in the house?? Are you concerned that no matter how hard you try, everyone will be able to tell where you made the attempt to patch and paint the wall? We've been there before. We've left the hole because we simply didn't know how to fix it and have it blend in. We've got the tips on how to properly patch that hole in the drywall and then touch-up the paint so no one will ever know what happened. And if you teach the kids how to do this, you'll never need to know about another hole in the wall ever again!
Save