Yet another guest post from our Super-Hero Decorator Friend, the Purple Stiletto!
I'm dreaming of a white…and cheap….Christmas. The Purple Stiletto has been spending a good deal of time in the Craft Cave (with Christmas music blasting), trying to find the most inexpensive ways to decorate for Christmas. Now, being that this is the Purple Stiletto's favorite time of year, it is important to have the feeling of Christmas in EVERY room. And that can get quite expensive! That is where common household items and a little bit of creative juice (and
eggnog!) come in handy.
Now, I will say, there had been ideas spinning in my head like ballerinas in tutus for quite a while. I started by gathering the items I already owned.
Large bowl? Easy!
Pitcher? Yup!
Hand towels? Ho ho ho!
Mason Jars? Thank goodness I made dinner at home last week!
Colander? Yes……..but it's rather big……..and bright silver…… and if I use that, how am I going to make pasta? I can't go without pasta until after Christmas! Option #2……… Red Ranger to the rescue! He suggested a trip to the thrift store to look for a colander and any other items that may dress up my ordinary household items. These are the reasons I need him!
With a song in our hearts (or at least in my heart!), we arrived at the first thrift store. If we were lucky, it would be our ONLY thrift store stop. We entered the store with much anticipation and were met with the MOTHERLODE! There was Christmas stuff everywhere! We walked from table to table, looking at all of the different knick-knacks and do-dads. Red Ranger found a bag of fake snow for $1 and some reindeer antlers.
And then I spotted it……shiny and copper……the perfect little colander! And a steal at just $5. We paid for our treasures and returned to the Craft Cave.
I started by folding the hand towels so that only the bottom, decorative portion was showing. I had seen something on Pinterest (a favorite Purple Stiletto website for inspiration) that showed toilet paper with greens coming out of the tube. There is just something about putting toilet paper on display in the bathroom that just doesn't settle well with me. So my solution was to use hand towels, folded, and then rolled into a tube. The Red Ranger cut sprigs of pine that I put in the top of the towel roll. My bathroom was ready for Christmas. How simple could it be?!
Next, I tackled my large wood bowl. Now, my intent was to fill the bowl with ornaments in varying shades of blue, white and silver. The colors were not a problem but the enormity of the bowl was! I had quite a few ornaments but not enough for such a large bowl. The Purple Stiletto does not let such pesky problems stand in the way! The solution was simple: place a layer of packing peanuts in the bottom and cover with a fabric napkin. I chose silver because it was more likely to blend in, should it be seen in the space between ornaments. Simple, inexpensive and literally minutes to put together. I was on a roll!
I did the same thing with my shiny new colander, except I added battery powered, LED micro lights. I picked them up at a home improvement store a while back for about $7. I put the end of the lights up through the holes in the bottom of the colander so the battery box was hidden under it. I added vintage Christmas ornaments that my grandma had given me and Voile! A fabulous kitchen decoration!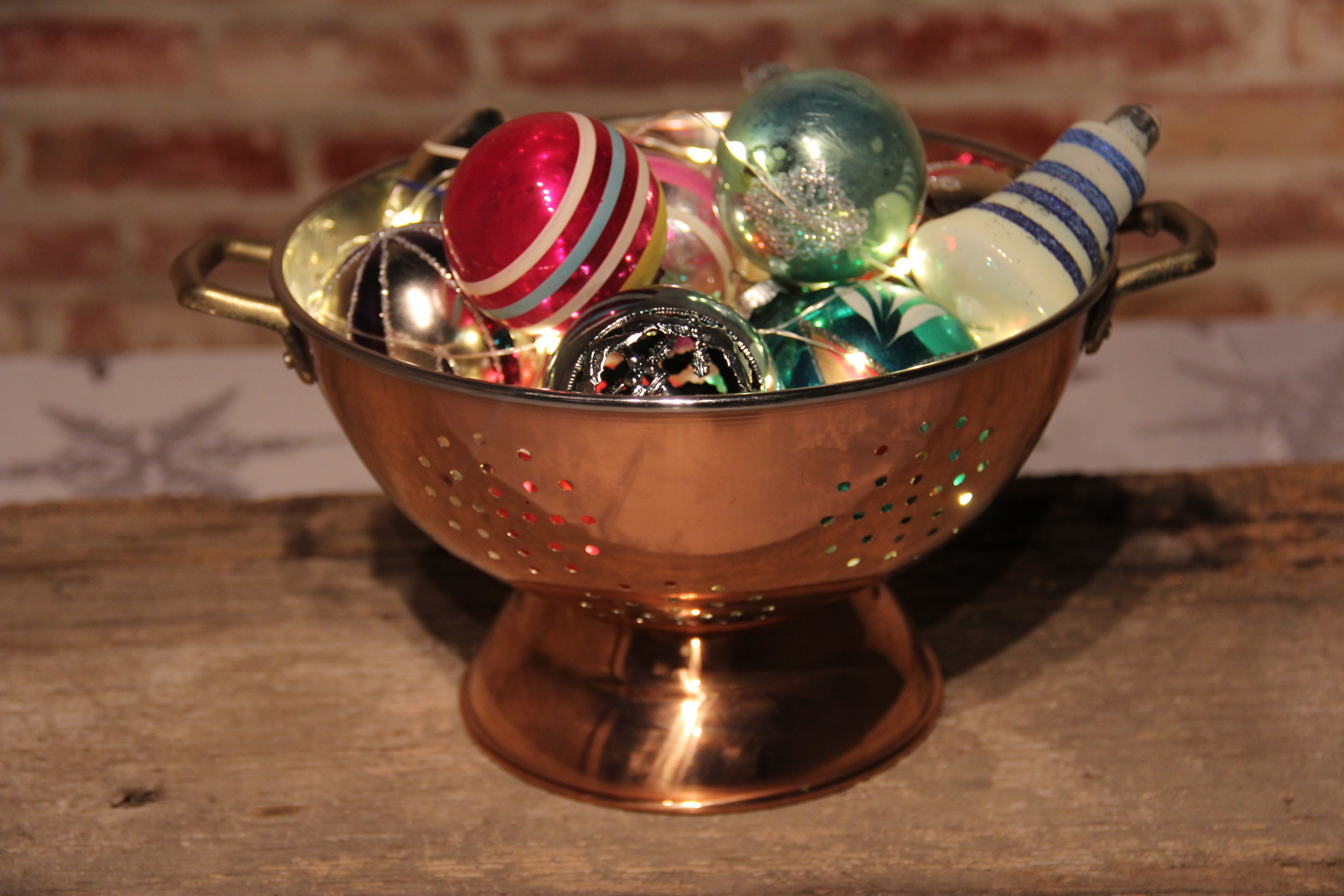 Last, Red Ranger and I tackled the mason jars and pitcher that holds beautiful flowers in the spring and summer. Red Ranger filled the mason jars with the fake snow and then cut tiny sprigs of pine. He also cut larger pine boughs to fill the pitcher. He added the tiny sprigs on top of the fake snow and I added tiny blue and silver ornaments for color. I added blue and green ornaments to the pines in the pitcher and a giant green bow. Our work for the day was done. Time to take a page from Santa's book and have some milk and cookies!
That night, I sat with a good book by the fireplace and admired my new decorations. They were my everyday items that were suddenly filled with the magic of Christmas. The Purple Stiletto had done it again—turned something boring into something spectacular! The only thing missing is a festive drink!