LISTEN HERE:
Segment 1: Spring-Loaded Nail Set
Sometimes you can't fit a hammer and a nail set into a tight corner. Sometimes you just don't want to use all that force to set your nails into the wood. In those instances, this simple, spring-loaded nail set is perfect! It's very inexpensive and definitely something to have in your toolbox.
Segments 2 and 3: Color of the Year with Jennifer Butler Design
Benjamin Moore launched their new Color of the Year for 2020 and it's First Light: a pink. How in the world, do you work with pink in your decorating? How do you prevent it from leaning overpoweringly to the feminine? And honestly, what is the point of color trends anyway? We discuss all of this with Jennifer Butler and Andy Yates from Jennifer Butler Design in Grand Rapids. And it's definitely worth your time!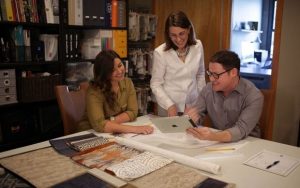 Segment 4: Amazingly Simple Wall Panels
Ever thought about using a mural in your decorating, but were afraid to commit? Didn't want to spend the money only to have to remove it later when your tastes change? Well what about this solution?