Years ago I tackled a bathroom remodel and in all my wisdom, I pulled the toilet out myself. At 10:30 at night. Before having the kids use it. It was a nightmare.
Oh, there were so many things that went wrong on that particular project, I can't even really begin to list them. But most of the pain that I felt revolved around that stupid toilet. See, it was the only one in our house and the minute I pulled it, the kids started showing up at the doorway. The toilet, at that point, was sitting in the hall, and it wasn't long before they were eyeing it with interest, or perhaps desperation, as they danced.
Suddenly, the pressure was on. I had to get the toilet back in ASAP. And of course, doing exactly that was, perhaps, the most painful home improvement experience I've ever had.
My wife was helping me and every time we'd try to set the toilet down, the toilet bolts would fall through the floor and land in the basement.  I'd run down, stuff them back up through the holes in the basement ceiling/bathroom floor and then, before I'd get 10 feet away, I'd hear one ping off the concrete. My wife's muffled "Sorry!" would drift down from the upstairs and I'd do the whole thing again. And again and again.
We struggled like this for over an hour.  We argued.  We laughed.  We fought.  We nearly cried.  Maybe we did cry.
We cried. Let's just be honest. At least I cried. All in all it was horrible and I resolved never to pull the toilet out again.
And that's why this tip about how to paint behind the toilet without pulling the toilet or even taking the tank off is so intriguing to me.
After all, painting in a bathroom is bad enough. It's crowded. Tight. And then, to top it all off, at some point in the project you're going to need to find a way to wedge yourself alongside the toilet, hug the bowl, and then do your best to reach around with a roller or a brush and slop some paint on the wall behind the tank. If you've ever tried to do this, you know how much fun it is.
But here's a tip that will make it easier the next time you try.
Here's What You Need:
1. Replacement Pads for a Shur-Line Edger. ($3.45 for a 2-pack at RepcoLite)
2. Some double-stick tape (or duct tape, or hot glue, or something sticky).
3. A stir stick.
Here's What You Do:
1. Gather your supplies.
2. Affix the double-stick tape to the back of the edger pad.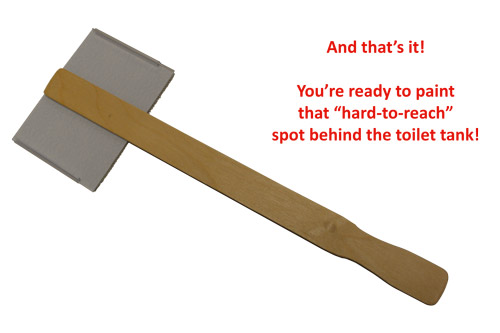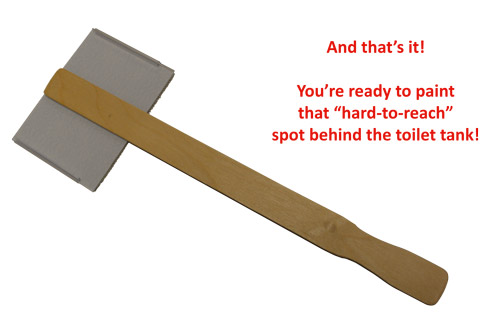 3. Affix the stir stick to the edger pad using the tape.
And that's it. Once you've done that, you've got a thin, easy to maneuver "paint brush" of sorts that will allow you to reach behind the toilet tank and apply your paint without having to remove the toilet or the tank! It's a great time saver and it's going to cost you, at most, $5.
If you're going to give it a try, here are a couple other tips to make sure the project goes quickly and smoothly:
1. Don't forget to clean behind the tank first. You could use a rag on a stir stick to reach back there and remove the cobwebs.
2. Wrap the tank with a garbage bag and tape it tight, so it's not loose or in your way. Then, you can get behind there with the tools we talked about and it won't matter if you bump the tank.