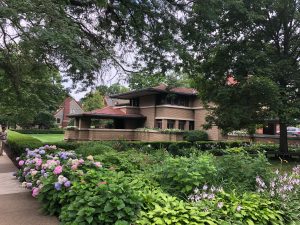 Trying to discuss and convey the influence, importance, and the style of an architect like Frank Lloyd Wright is the work of biographers, not bloggers. There's no possible way to do any justice at all to the man in a few short paragraphs. But after a trip to the Meyer May House in Grand Rapids, Michigan, I find myself wanting to give it a try.
The Meyer May House, located at 450 Madison Ave SE in Grand Rapids, was designed by Frank Lloyd Wright for Meyer May and his family in 1908 and construction was completed the following year.
In 1985, a major restoration was begun and by 1987 the home had been meticulously restored to Wright's original vision. Today, it's open to the public for free tours and is truly a great experience. Knowledgeable guides lead you through the home, pointing out every detail that Wright incorporated into his design. When the tour ends, you're left with a better understanding of the architect's brilliance.
If you're not familiar, Frank Lloyd Wright's architectural style was all about horizontal lines, simplicity, and a desire to integrate the home with the environment. His designs are marked by simplicity in design and decoration (yes, he was involved in everything that went into the home). The structures were noted for pronounced horizontal lines and flat or low hip roofs. This style came to be known as Prairie Style Architecture and the Meyer May House is a perfect example.
Recently we toured it and were struck by the foresight and thought and the beautiful design work that went into the project. And while there are literally hundreds of "lessons" or ideas to take from the home, here are a few concepts we came away with that can be applied in any of our homes!
LESSON 1: It's OK to Buck the Trends!
So often, we want to be "trending". We want to be right in line with what other people are doing. It's more comfortable there sometimes. But, Wright completely ignored trends and worries about "what was popular" when he designed his homes. In fact, almost everything about the Meyer May House bucks the trends. It's completely unique in the neighborhood. The houses around it (many of which were already standing when construction began in 1908) are all ornate, "boxy" homes. Traditional homes. The kind of homes everyone built.
And then there's the Meyer May House with a style and flair all its own. It's long horizontal lines, low, flat roofs and modern feel must have seemed strange in that neighborhood all those years ago. Not to mention the way it's set on a lower grade than the street so that it actually seems to rise from the earth organically! Look for the front door all you want, but you'll never see it from the street. It's tucked away along the side of the home. There's a beautiful veranda that can be seen from the street, but oddly enough, there's no approach! A line of hedges seals that front porch off from uninvited guests.
The exterior is definitely unique in that neighborhood, but even more interesting (in our opinion) is the interior. Wright designed this home specifically for the Meyer May family. The ceilings are low (Meyer May was 5′ 8.5″ tall) and the furniture (designed by Wright as well) is made for people of that height. The windows are set lower than you might think. In fact, everything about the house is designed specifically for the Meyer May family. We even noticed on our tour that taller people felt much less comfortable there than those of us closer to Meyer May's "near perfect" height! And that's perfectly fine! Taller people don't feel at home there because, in Wright's estimation, they shouldn't: it was not their home. This home belonged to Meyer May and his family. And as such, it was built for them specifically–not for anyone else. The main priority was comfort for the family who lived there.
And that's a great decorating point! So often we choose colors based on trends. We wonder what's popular, what's "in", what's cool. We worry what other people will say about colors we select. We've all been there. We've all picked a color for a room and shared it with someone in the family (or a decorating-savvy friend) only to watch that friend wrinkle her nose and make a face of complete distaste. "You can't use that color! You'll be stuck in the 70's forever if you do!" In the end, we often decorate our home to match tastes other than our own!
Taking advice and second guessing our original thoughts isn't a bad plan. Just remember that the home you're decorating is your home! Just as Frank Lloyd Wright didn't think twice about designing a room with low ceilings, neither should you worry too much about choosing colors you love just because they're not current or popular. If you love them, that's what matters. It's not about what designers say or decorators recommend. It's not about what's currently trending or popular. It's not about Benjamin Moore's Color of the Year. All of that is interesting and helpful, but in the end, it's all about what colors you like!
So, design and decorate your home first and foremost with you and your family in mind. That's the first point. We'll get to the next one tomorrow!